Top 3 WordPress Page Builders: A Comparison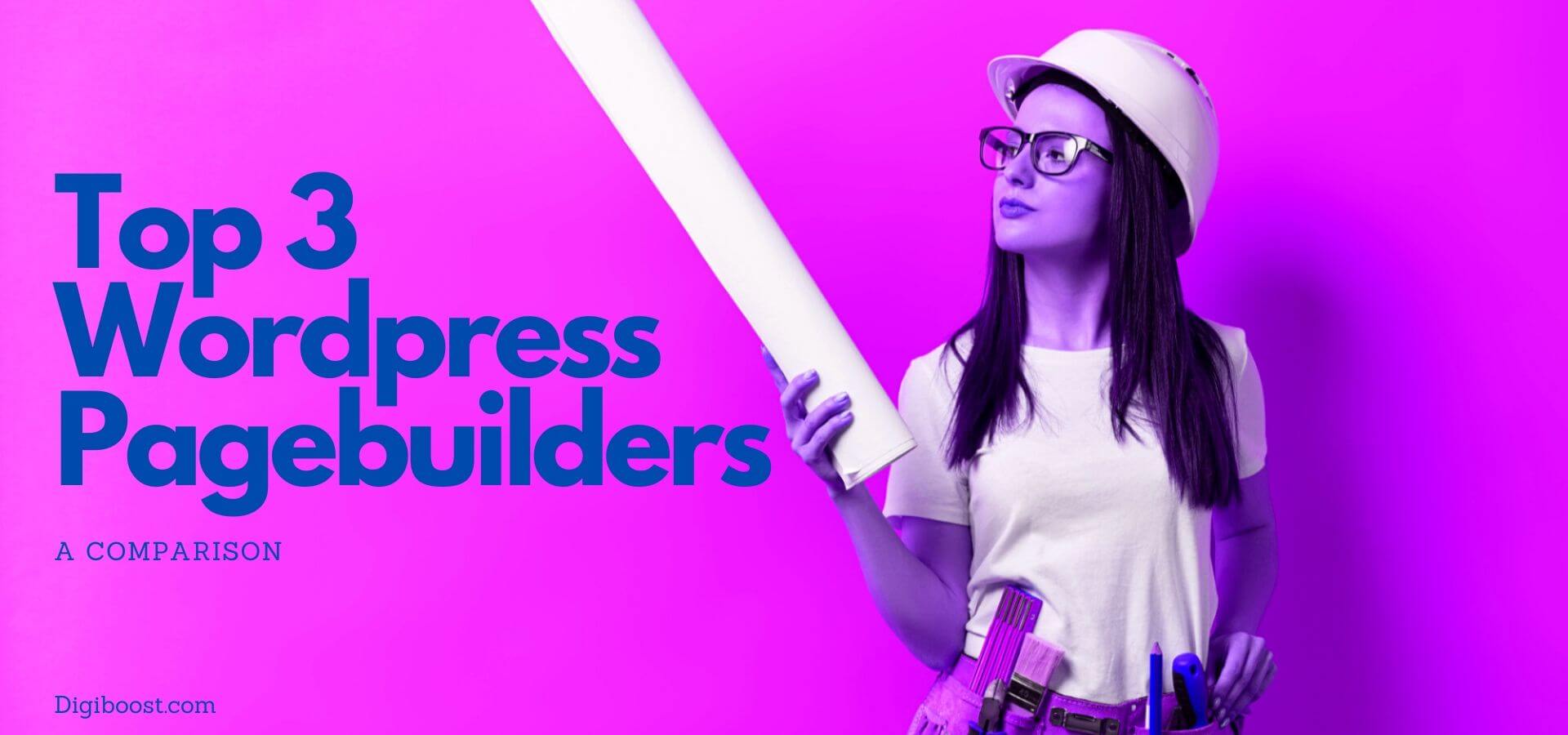 When it comes to building your own website, it can be pretty tough, even for those who have plenty of web building experience. As a result, web developers are always in high demand and can charge pretty high prices for their development work. While there are platforms that let you create your own site by giving you a set template that you drag and drop your content into provided areas, like Squarespace or Wix, the issue is they all end up looking similar since they are all built on the same closed source platform. Furthermore, consumers never own their sites outright with these providers and will continue to pay monthly as long as the site remains on their platform.
This is where WordPress or open-source website platforms with page builders come in handy. With a WordPress page builder, you will have access to tools that will allow you to build your own original website with built-in tools and elements. Below are some of the most popular WordPress page builder options you can utilize to build out your website.
Elementor is the leading WordPress page builder with over 4,000,000+ users. With everything that Elementor offers, it is no wonder why it has remained the top web page builder out there. Here are some of the main reasons why Elementor is the top choice for web designers using WordPress:
Pixel-Perfect Design: With Elementor you can create perfect designs while producing 100% clean code. This means that you can virtually create any vision you have for your webpage while maintaining the best functionality you can get.

Fully Customizable Themes: A lot of page builders out there don't allow the users to customize the themes that they offer. Elementor on the other hand, allows you to fully customize and edit any theme that it may come with.

Design Elements: Elementor offers over 80 design elements which will allow you to create your website from start to finish with a lot more functionality than most page builders wish they could offer. This means you can even integrate tools that will allow you to generate more traffic, leads, and conversions without having to add a load of plugins.
You can use Elementor for free, or you can purchase a premium plan which comes with tons of extra helpful features.
Beaver Builder is a great, user-friendly choice of page builders. With its intuitive ease of use and variety of elements, there is definitely a reason why over 1,000,000+ websites have been built with this page builder. This is one of our favorites here at Digiboost too. Here are some of the great features that Beaver Builder offers:
Templates: Beaver Builder offers some of the most beautifully designed templates that you can customize. Users can even save their own designs and reuse them again or transfer them to another site.

Switching Themes: With Beaver Builder, if you decide that you want to switch the theme of your webpage, you don't have to worry about losing any content you have on your current one. And if you stop using Beaver Builder, your content will get imported back to the WordPress editor!

Mobile Responsiveness: Beaver Builder allows you to design your webpage from desktop, to tablet, and mobile with just a few clicks. You don't even have to work in that order, so you can go ahead and create your website using the mobile-first design route without any issues.
Like Elementor, Beaver Builder offers both a free and premium version.
Last but not least in line, is Divi Builder. One scroll through the Divi Builder website and you will be in love and eager to get your hands on their product to build your website. The amount of services that Divi Builder offers is definitely more than enough to create a beautiful and fast website. Here are some things they offer that might just make you choose this solution:
Webpage Layouts: Divi Builder offers over 800+ pre-built webpage layouts. In fact, they upload new templates nearly every week. The cherry on top? They also give you access to numerous royalty-free photos, icons, and illustrations so that your website stays looking fresh and up-to-date.

Optimization & Conversions: Divi Builder offers tools that won't only help you design the best website there is but will also help you with your marketing. From creating marketing lists to social media sharing, they even allow you to do split testing to see which pages perform best!

Easy Responsiveness: Divi Builder gives users a quick and easy way to edit their site for mobile-responsiveness. With more people using mobile devices instead of desktops to roam the internet these days, this is an important feature.
You can try Divi Builder for free but only for a trial version. You will have to purchase a plan at some point if you wish to continue using it.
Conclusion
While there are numerous page builders that you can find while roaming the internet, the three listed above are your best bets for building beautiful and fast websites in a quick amount of time. Remember, a website is supposed to do more than just make your website look nice; it should help create conversions for your business as well. If you are interested in finding out more about how you can maximize the performance of your website or build a beautiful yet powerful website, visit our website at Digiboost or give us a call at 210-227-3444 to learn more or have your existing site audited.
About the Author
Pablo Calvo
Pablo lives in San Antonio, TX with his wife and two sons. He spends most of his time playing at work and working at play, with the same goal: having fun doing it. If you'd like to connect with Pablo, you can find him at linkedin.com/in/pablocalvo322.
Recent Blogs
Artificial intelligence (AI) writing services are becoming increasingly popular with marketing and advertising agencies. These services use advanced algorithms to…

When I embarked on my first solo enterprise in 2012 with my white label agency, Plugin Group, it was an…